Marine Band Radio
By: Mike, G4BQF
As presented to the Vange Amateur Radio Society 11th Oct 2007


Mike started the evening by way of a discussion about the difficulties of the readability of marine communications in a noisy environment, and showed a recent project of a rugged and water protected loudspeaker enclosure.
Mike bought along two fine examples of Marine Transcievers.

---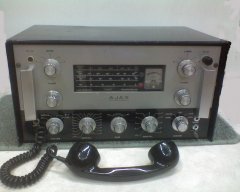 The AJAX Transciever.
This transciever was produced Locally (in Thorpe Bay) and gave an output power of approximately 100W on frequencies ranging from 160KHz to 4MHz, using Amplitude modulation.

---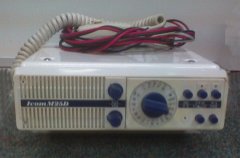 A typical Marine band VHF radio.
This type of radio is quite widely available, but it should be noted that many of the older examples of this type of set are designed for the old channel spacings, and may display excessive modulation causing co-channel interference.

---
Licencing
It is necessary to hold a licence for such equipment, ant the licence is administered by the RYA, and is normally gained after attending an intensive one day recognised course (Cost typically £75 + £22 for the licence.)
Locally, amongst other places, the RYA course can be taken at the Southend Marine Activities Centre.
See HERE for details.

---
Availability.
Simple Marine band radios can be purchased for just a few hundred pounds. In fact, there are some very impressive hand-held sets now available from manufacturers like ICOM.
These may be seen or purchased at reputable radio dealers such as Waters and Stanton.
---
GMDSS
A new enhanced radio system (Global Maritime Distress Safety System) has now been introduced, and uses the latest computer technology, it offers a very advanced communication system that allows for Emergency messages to be transmitted digitally.
There is even provision to attach a GPS unit to automatically insert the location details into transmissions.
Although there is no legal requirement for small ships (below 300 tonnes) this system is becoming increasingly popular with owners of smaller craft.
---
Further reading
Ship radio licencing FAQ's (Ofcom)
Ship radio licence information sheet. (Ofcom)
VHF Frequency listing.
Wikipedia entry for Marine Band radio.
Wikipedia entry for GMDSS
---
The information contained upon this page is supplied in good faith, and to the best of my knowledge is accurate.
However, I accept no responsibility for damage or injury, however caused, due to the use of this data.